Traditionally, the bridesmaid is responsible for organizing the bachelorette party. The party is attended only by ladies – friends and family. How to organize such a party?
The hen night is an obligatory element of pre-wedding preparations for many brides. It is a farewell to the free state, carefree and party life before starting a family. It is also an opportunity to simply meet in a group of women and have a good time. We suggest how to organize such a party.
Hen night – ideas for spending it
Hen night a decade ago was associated unequivocally – start with delicious food in the apartment of the witness or bride, and then go to a club for dancing. Of course, we can follow this pattern and organize a classic hen night. However, there are many more possibilities.
Weekend trip
It may be a trip to the mountains or to the seaside. Hiking together, sunbathing, an evening by the fire. Simply – active time spent with friends.
Hen night at the spa
Quite an expensive option, but before the wedding it is perfect. Beauty treatments, relaxation and rest may be what a bride needs most on the last straight before the wedding.
Home spa
A home spa is always a good idea for a bachelorette party. However, it doesn't have to end with a boozy party with a stripper. A home spa is a great idea to regenerate your body and face, eat delicious food, chat and relax.
Movie night
All-night movie marathon is another of the proposals for an unusual hen night. You can refresh the long-lost romantic comedies, your favorite series or rely on novelties.
Theme workshops
Hen night can be an opportunity to develop your skills or gain new experience. Macramé workshops, sushi or a florist course are just some of the suggestions.
Going to an amusement park or water park
Active spending of hen night and experiencing unforgettable adventure are other inspirations for this day. This is a hint for ladies who like adrenaline and extreme adventures. Mountain railroads, rope park, tyrolean or bungee jumping… Such memories will stay in your heads for a long time!
Photo session
We can order a photographer as an additional element of every kind of hen night. We can also use the session to create a theme for the event. A joint session in glamour style, boho or dedicated to the bride session in lingerie. Such photos will be a great souvenir for years to come.
Evening with board games
Board game lovers can spend the whole evening playing and drinking wine. The most important thing is to spend time the way you like it most.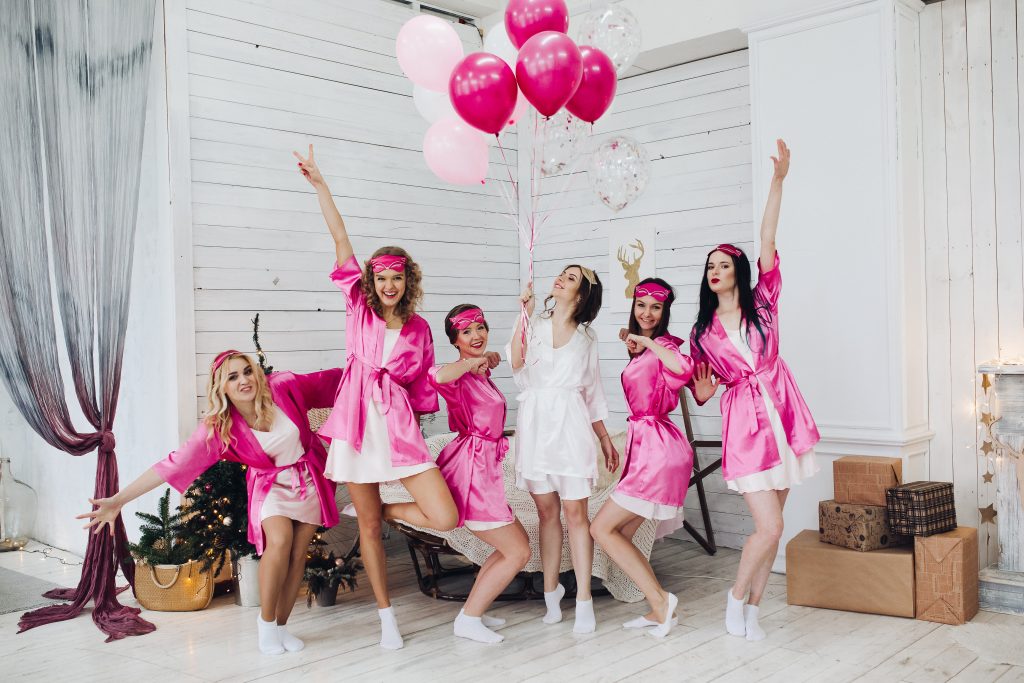 Decorations and gadgets for a hen night
In online stores you can buy complete sets of decorations for the hen night. The sets include everything you need to organize a party. Balloons with the inscription "Future Bride" or "Bride to be", inflatable inscription, heart balloons and filled with confetti.
We can stock up on branded disposable cups, plates and straws. We can opt for T-shirts with the words: "Team of the bride" or simply "bachelorette party" and the name of the future married woman. In the offer of stores there are also washable tattoos, decorated armbands, aprons and many others. The market of gadgets associated with the hen night is very developed. We will successfully find everything we will need, in the right colors, designs and quantities.
We can also independently come up with the theme of the party and decorations. A good idea is to prepare a gallery of photos of the future bride: from childhood to the latest. If the bride-to-be is interested in a certain subject, we can use this theme as inspiration for decorating the place of the bridal party.
Gifts for the bride-to-be
It is customary that the bride does not pay for the attractions that meet her on the hen night. However, when it is an expensive event – especially away, it is better to discuss this issue.
If the organizers and participants of the party throw themselves on the event – the very organization of the meeting is a gift. Bride can then give some trinket. Jewelry, a book, a gift certificate or lingerie will do well.
A great souvenir will also be gifts made by hand. Developed joint photo, drawn caricature or portrait. We can also invest in fun gifts: a self-written guide to a good wife, a box with the essentials of a future housewife, etc.
Main photo: Ibrahim Boran/Unsplash