The period of many occasions for which it is nice to gift your loved ones is approaching. A gift does not always have to be a material object, delicious, personalized sweets are equally enjoyable. You don't have to be an outstanding confectioner to make delicious gifts for your family and friends. You can also buy tasty and interesting sweets for them that will surprise them and satisfy their craving for sugar. See what chocolate sweets you can make various occasions pleasant for yourself and your loved ones.
Chocolates for Easter
Both Christmas and Easter are popularly associated with chocolate. Everyone remembers from childhood chocolate figurines in beautiful packaging, chocolate lollipops and candies for the Christmas tree or holly. Easter is definitely a "chocolate" holiday, which is why for years companies have been releasing special editions of sweets in spring just for this occasion. Easter chocolates come in shapes of bunnies, chickens, Easter eggs, and even lambs
If you feel like having some fun in the kitchen, you can try making chocolate Easter eggs yourself. You can buy an egg-shaped chocolate mold in candy stores. Fill the mold with tempered chocolate and let it set. You can fill the center with candies, marshmallows or other sweets, or leave it empty. The outside of the Easter egg can be decorated with other colors of chocolate, colored icing or candy decorations. If you want to give this Easter egg as a gift to someone, you can, for example, write their name on the chocolate egg.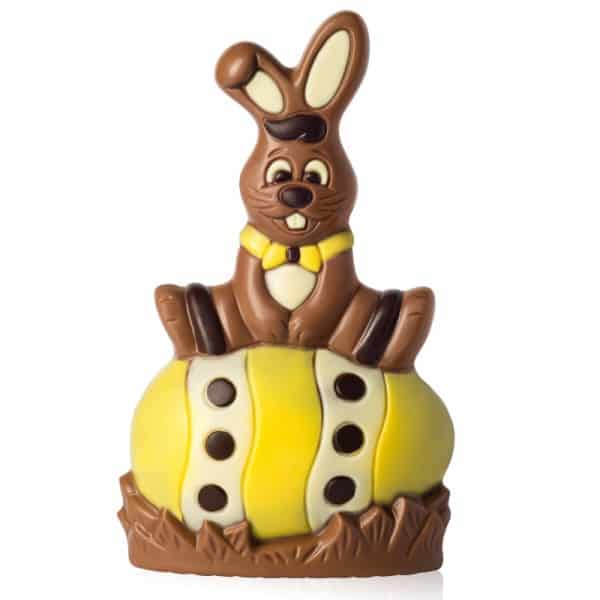 Chocolates for Mother's Day
Mother's Day is fast approaching so it is worth considering a gift for your mother. Chocolates are a great way to express your love and gratitude for her efforts on that day. Not long ago, a plain box of chocolates was the only form of chocolate besides a bar. Although chocolates in a box of chocolates come in different shapes, they are not personalized or unique in any way. These days, stores, especially online, offer all sorts of chocolates for mother's day in interesting shapes
You can make your own chocolate pralines for your mom with different fillings, for example, toffee, cookie or fruit flavors. All you need to do is to buy or find at home a form suitable for this (an ice cube tray works well), fill it with chocolate and put mom's favorite filling inside. You can also decorate the chocolate yourself with nuts, freeze-dried fruits or candies. To do this, on a flat tray, for example the lid of a box, pour out tempered chocolate. When it has set gently, sprinkle it with the additives and decorate. When the chocolate is completely set, take it out of the tray and wrap it up in an elegant manner.
Personalised chocolates for any occasion
For birthdays, name days or any other occasion, a great gift will be personalized pralines or chocolate in an unusual shape. For soccer fans there is chocolate in the shape of a ball or traffic jam. For fashion and make-up lovers, chocolate in the form of a dress, heeled shoes or lipstick will be an interesting gift. There are also sets of chocolates, for example in the shape of tools, enclosed in a box – such a gift is a hit for dad or grandpa. You just have to search well to find the perfect chocolate shape for the gifted person.
Choosing a gift for a loved one can be difficult, even if we know them well. Some gifts are too much or too little personal, others are too expensive for our pocket, or cheaper than we anticipated. Fortunately, sweets are a good choice for any person, regardless of age or relationship
Photo by Pexels