Summer is fast approaching and with it the season for all kinds of cream soups! When it is hot outside, there is nothing better than a quick dish that can be eaten both hot and cold. We present the best recipes for cream soups.
Cream of broccoli soup
Green broccoli cream soup is a great weekly menu addition that both kids and adults will love! To prepare this simple dish you will need:
2 or 3 broccoli about 1.5kg;
1 or 2 large onions;
a few cloves of garlic;
2 large spoons of clarified butter;
30% cream;
broth – about 1.5l;
salt and pepper.
Peel the onions and cut into small cubes. Chop garlic cloves into small pieces. Wash the broccoli and cut into smaller florets. Then, take the pot in which you want to cook the soup, put it on medium heat and heat the clarified butter in it. When the fat is hot, throw in the chopped garlic and onion
Fry until the onion is golden brown, then add the broccoli. Stir-fry for about 30 seconds, and then immediately pour in the broth. Cook for about 20-30 minutes until the broccoli is tender, then blend everything into a smooth paste. To thicken the soup, add 30% cream if desired and season.
The finished soup can be served with croutons or garlic bread.
Gazpacho – Spanish Cream of Tomatoes
To prepare this refreshing cream of tomato soup you will need:
2 kg of tomatoes;
1 small fresh cucumber;
half a red bell pepper;
1 small onion;
chili seasoning;
2 tablespoons lime or lemon juice;
one tablespoon of wine vinegar;
about four tablespoons of olive oil;
salt and pepper;
a few cloves of garlic;
several rolls or slices of white bread.
Scald the tomatoes with hot water and peel off the skin. Then peel and slice the onion, garlic and cucumber. Chop the bell bell pepper as well and tear the bread of your choice into small pieces
Put all the ingredients into a pot, add lemon juice, vinegar, chili, olive oil and salt and pepper. Then mix everything together thoroughly and refrigerate for about 2 hours. You can also add a little sugar. Additionally, you can serve this soup with feta cheese.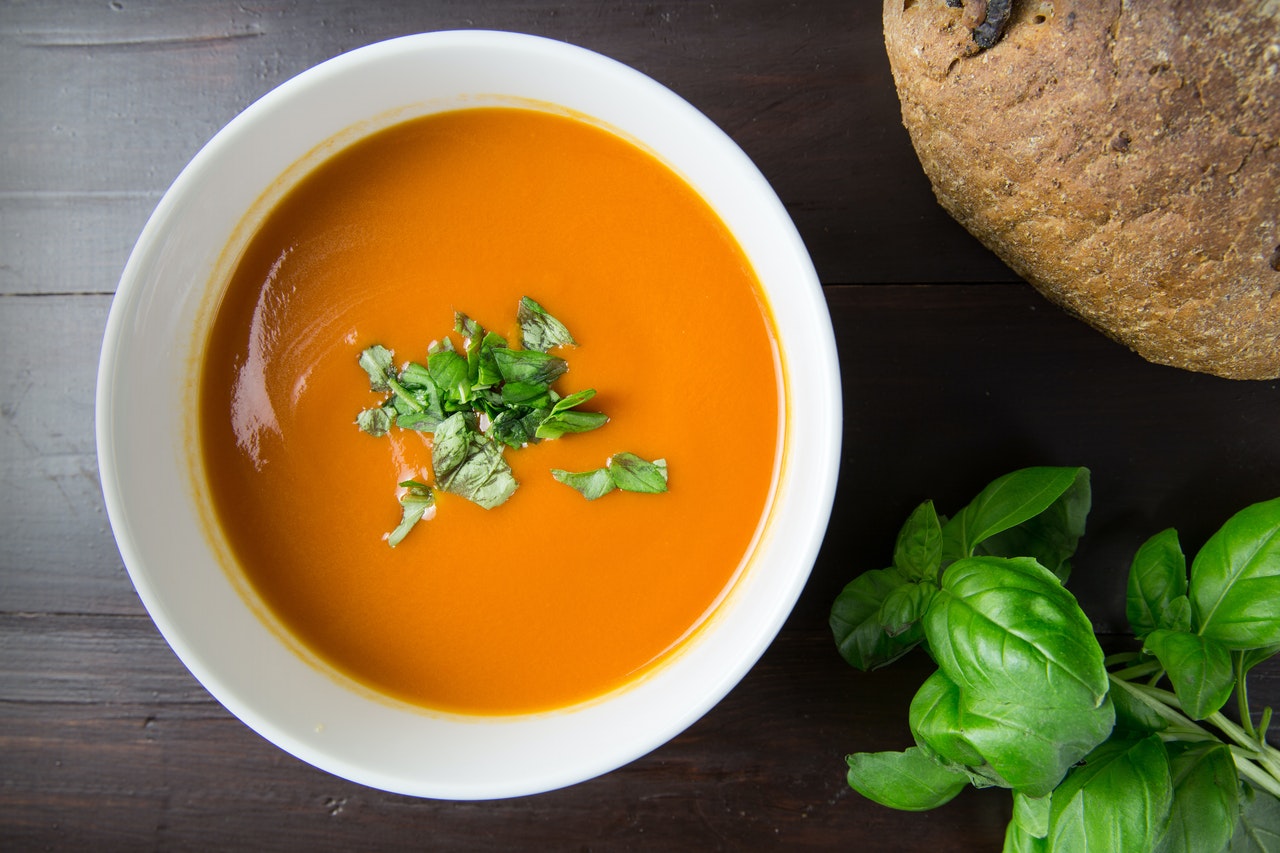 Greek zucchini cream soup
This cold zucchini cream soup is extremely easy to prepare! You'll need:
2 large zucchini;
3 small onions;
5 cloves of garlic;
150 g celery;
80ml olive oil;
50 g fresh thyme;
50 g fresh mint;
50 g fresh oregano;
4 Kaiser rolls or several slices of white bread;
800 g Greek yogurt;
40 ml cold water;
25 ml apple cider vinegar;
several cherry tomatoes;
salt and pepper.
Peel the zucchini and grate it on a coarse grater. Do the same with garlic and onion. Slice the celery and finely chop the herbs. Put everything into a pot, add olive oil and mix.
Bake the center of the rolls with the herbs at 200 degrees for 5 minutes. Then add it to the pot and blitz everything with yogurt, water, salt and vinegar. Put it all in the fridge to chill. Before serving decorate with tomato halves.
You can also garnish the creamed soup with radishes and thin slices of zucchini.
Delicate cauliflower cream soup
For this extremely delicious cauliflower cream soup you will need the following ingredients:
1 large cauliflower – about 1 kg;
a few potatoes – approx. half a kilo;
800 ml of vegetable stock;
3 tablespoons of clarified butter;
2 large onions;
4 cloves of garlic;
30% cream cheese;
salt and pepper;
sugar;
nutmeg.
Peel the onions, garlic and potatoes and cut into small pieces. Wash the cauliflower thoroughly and cut into small florets. Fry the onion and garlic in clarified butter. When golden brown, throw in the sliced cauliflower and potatoes. Fry everything for about a minute, and then pour in the broth.
Cook until the potatoes and cauliflower are tender. Blend everything, then add the cream and all the spices. The cream soup is ready when it has thickened sufficiently.
White vegetable cream soup
This amazing white vegetable cream soup will delight many a gourmet, to prepare it you need:
1 cauliflower;
the white part of one large leek;
3 large onions;
a few potatoes – about 0.5 kg;
half a celery root;
3 parsley roots;
a few cloves of garlic;
about a liter of water or broth;
200 g cream;
3 tablespoons of clarified butter;
5 tbsp olive oil;
5 tablespoons of lemon juice;
salt and pepper;
nutmeg;
ginger;
a dash of romaine cumin.
Cut all the vegetables into small pieces. Fry onions, ginger and garlic until golden brown in clarified butter with olive oil. Add the rest of the vegetables and fry them for about half a minute. Then pour water or broth over them and cook for 30 minutes. Right after that mix everything, add cream, spices and cook for another 5 minutes.
Tasty cream of mushroom soup
This unique cream of mushroom soup is undoubtedly one of the best dishes for a quick summer dinner. To prepare a light and extremely filling dish you need:
2 tablespoons of olive oil;
2 onions;
1 leek;
1 kg mushrooms;
1 carrot;
1 parsley;
2 large potatoes;
1 liter of broth or water;
200 ml of 30% cream;
grated mozzarella.
Peel vegetables from skin and cut into pieces. Fry onions and mushrooms in olive oil. Add the rest of the vegetables and fry for a while, then add broth or water. Finally blend everything and add cream. Sprinkle with cheese before serving.
Enjoy!
Main Photo: Nataliya Vaitkevich/Pexels